Amy Waterman's course:
How to be irresistible to Men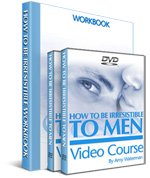 Amy Waterman has developed a ground-breaking dating and relationships course that provides all women - single or attached, young or old, never married or divorced - with a "life coach"-style program to enhance their charisma, feminine presence, and irresistibility.
Amy covers topics such as:
Be more confident and feminine
Overcome shyness and self-doubt
Find Mr. Right amid a sea of Mr. Wrongs
Attract men in a way that suits any woman - no matter what her age!
Keep the fires burning in your relationship
You will learn how to:
become the sort of woman to turn heads when she walks into a room
attract the right men for real relationships
keep from freezing up or scaring a man away
talk to men without letting shyness or self-doubt get in your way
keep a relationship hot no matter how long you've been together
You will be impressed at both the quality of information as well as the volume of material in this comprehensive multimedia package. You can watch the premium 2-hour video course online without needing to buy a DVD or download a huge file. (Versions for broadband and dialup connections, PC and Macintosh are provided.) Additionally, you will have the opportunity to review the concepts, work through exercises, and explore the concepts further in the 111-page workbook accompanying the course. That's not even including all the bonus material!
The latest edition (released August 1, 2006) includes:
"How to Be Irresistible to Men" Premium 2-Hour Video Course
"How to be Irresistible to Men" Video Course Workbook
Sarah Paul's Original "How to be Irresistible to Men" eBook
"Overcoming Shyness in Dating" eBook
"Surviving a Breakup" Audio Series
160-minutes Video Library - Watch online!
Exclusive Members-Only Dating & Relationships Forum
Personal Email Consultation
This multimedia package will ensure you can navigate your way successfully through the dating and relationships minefield armed with all the information you need to maximize your chances in attracting, dating, and keeping the man of your dreams.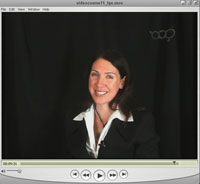 Click Here To See The Difference
Amy Waterman Can Make To Your Love Life